Het orthodoxe Pasen valt dit jaar een weekje later dan Pasen in België en de ons omringende landen, en het is voor Griekenland het grootste feest.
Je kan het niet wegdenken uit onze eigenheid. Alles is ervan doordrongen. Het lijkt vreemd voor veel mensen omdat het in veel culturen niet zo is. Maar voor ons is het leven ervan doordrongen: de grootste dichters hebben de mooiste verzen neergeschreven, de grootste componisten en zangers de mooiste noten, het zit gewoon in onze taal. Op de openbare TV wordt dagelijks gedurende de hele week de mis van de dag uitgezonden, en alle mogelijke paasfilms, zelfs op de commerciële zenders.
De week heet dan ook Megali Evomada, de Grote Week, elke dag is Groot en elke dag heeft haar betekenis.
Dan begint ook de grote uittocht: Πάσχα στο χωριό (Pasen in het dorp). Iedereen gaat terug naar zijn roots: naar zijn dorp of naar zijn eiland. Er zijn honderden gebruiken en elke plaats heeft natuurlijk ook nog eens haar eigen.
Woensdag is een mooie dag, dan vergeven we mekaar omdat onze liefde groter is dan onze fouten. Die dag worden de tsourekia en koulourakia gebakken, alle huizen ruiken naar deze heerlijke koeken.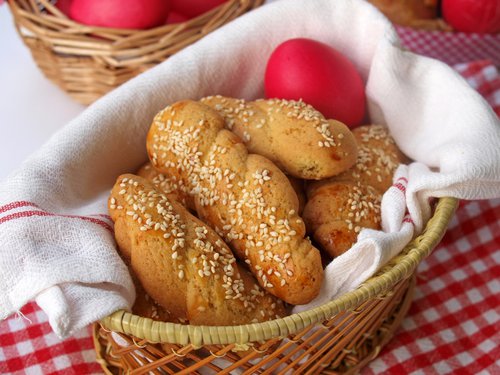 Op donderdag worden de paaseieren rood geverfd. het rood dat verwijst naar het bloed van Christus en bloed dat leven betekent.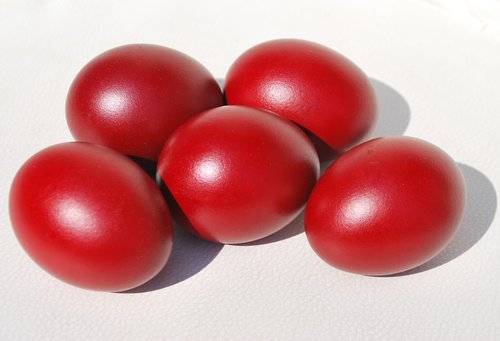 De droefheid om het verraad bereikt haar piek op vrijdag. Dan is het de Epitafios, om het eenvoudig te zeggen de begrafenis van Jezus. De icoon wordt 's morgens prachtig versierd met bloemen, en 's avonds rondgedragen door de straten, een symbolische begrafenisstoet. Het is werkelijk een dag van grote ontroering en intense beleving, die de hoop op een nakend nieuw begin inluidt.
Zaterdag is het de Verrijzenis. Precies middernacht geeft de pope het Licht door aan de gelovigen die het op hun beurt doorgeven, en meenemen naar huis. Iedereen is blij en dat kan je horen: de klokken luiden fel, en iedereen wenst mekaar Χριστός Ανέστη! (Christus is verrezen) Αληθώς Ανέστη! (Hij is waarlijk verrezen)!
We hebben natuurlijk ook onze paaseitjes mee en het tikken kan beginnen: we tikken ons eitje met mekaar en het eitje dat breekt, wordt aan de andere gegeven, dat alles onder dezelfde geijkte uitdrukkingen: Christos Anesti, Alithos Anesti!
Na de middenachtmis wacht ons thuis de μαγειρίτσα (magiritsa), de traditionele paassoep, en zondag Pasen, Πάσχα of ook Λαμπρή (Lambri, de schitterende dag) kan je overal het lammetje aan het spit ruiken en voor de gelukkige ook κοκορέτσι (kokoretsi), een soort van brochette van organen samengebonden door darmen.
Het klinkt u misschien vies maar het is een delicatesse!

Wie ooit kan, moet zeker naar Griekenland deze dagen, het zal onvergetelijk zijn!
Χριστός Ανέστη, χρόνια πολλά! Vrolijk Pasen voor wie het nog gaat vieren!