Conversation classes
These modules are open to anyone who has followed a higher level (depending on the language) at CLT:
Are you currently a student at CLT and have you taken a course at the level indicated? Register via your student portal in myCLT.
Were you a student at CLT in the past and did you take a course at the level indicated? Request the registration link by e-mail.
Do you hold a certificate from another CVO? Contact the programme counsellor and send your certificates. We advise you and help you register.
In all other cases, you can demonstrate your language proficiency by taking the level test and then contacting a programme counsellor for an intake interview.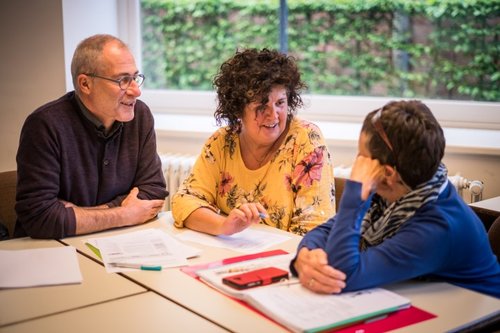 Chinese

you have followed level 8
course with 50% e-learning (Combi F2F)
from 26 September 2023 til 27 January 2024
or
from 30 January 2024 till 1 June 2024


English, French, German, Italian & Spanish

you have followed level 10
start semester 1: week of 26 September
or
start semester 2


Finnish

you have followed level 3
100 % online
Thursday 18:30-21:00
from 28 September 2023 till 20 January 2024


Greek

you have followed level 7
Saturday 10:00-11:40
5 lessons per semester

7/10, 21/10, 18/11, 2/12, 16/12


Norwegian

you have followed level 2
Wednesday 18:00-20:30
9 lessons (27/9-29/11)


Polish

you have followed level 7
Monday 18:30-21:00
from 25 September 2023 till 18 December 2023
of
from 29 January 2024 tot 13 May 2024