Where can I park?
Parking Servotte (Parkstraat 53). This KU Leuven car park
is within walking distance of our centre
is only open to those who follow a class in the evening or on Saturday morning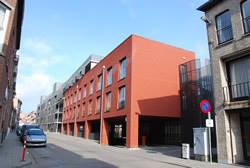 Would you like to have access to this car park?
From 1 September you can make an appointment to apply and pay for a parking card.
the price is €34 for a semester (not including a €30 deposit)
it takes 48 hours for the card to be activated
the car park is open from 15 minutes before the start of your course
the car park closes at 22:30 and at 13:30 on Saturday
if you rent the card for a year or only for the second semester, the parking card has to be returned in perfect condition to the secretary's office by 30 June at the latest. The deposit will be refunded.
if you only rent the card for the first semester, the deadline for submission is January 29, 2022. The deposit will be refunded.
If you already have a parking card from KU Leuven or UZ Leuven, you can come by to have it activated for a parking space in the Servotte car park during your lesson.
Other car parks:
Parking station (15 min. walk)
Parking Ladeuzeplein (10 min. walk)
Philipssite (10 min. walk)
Parking Bodart (free, 20 min. walk or public transport)